ONLINE RENTAL APPLICATIONS
Save Time & Headaches With A Faster, Easier Online Application
Paper & PDF applications are things of the past. Use our secure online application to streamline your application process. Some benefits include: no paperwork, easier sharing, easier documentation, increased safety and faster turnaround!
Only the renter pays the application fee to cover the credit, criminal, and eviction report.
Landlords Pay
Includes extensive online rental applications, instant screening reports, and rental marketing.
Applicants
$
35-45
Application Fee
Covers the credit report, background check, and eviction history. Eviction history is included with the $45 fee.
The applicant answers a few questions about their living habits & preferences including whether or not an applicant has pets, plans to have vehicles at the property or if they smoke.

The applicant also answers a few standard background questions making you aware of any criminal history, evictions and other pertinent housing histories such as foreclosures. In this section of the rental application, the applicant also has an opportunity to make you aware of any special needs.
Past Addresses & Landlord References
The applicant provides information about housing history and previous landlords. Our system will send previous landlords an email requesting a reference as well. Once that is received, you will be emailed a notification and the information will be filtered into the leads application. Questions include:
Verify their Identity, Income, and More
The applicant has the opportunity to upload a photo-ID, proof of income/employment and any other documents you request.
If you have specific questions you'd like interested renters to answer, you can add those to the rental application from your settings area.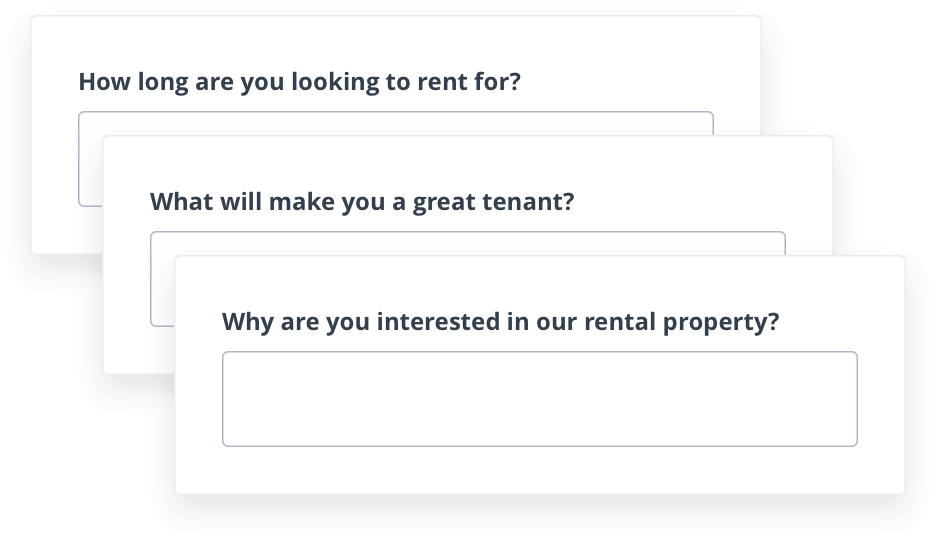 On this section of the rental application, the applicant provides information about their current income situation including:
Rent With Confidence, Without Waiting
The applicant approves a credit and background check and verifies their identity immediately after finishing the application. So you don't have to wait days to get back their screening report. It's available the second you request it.