A
Professional Tool

Built for Landlords Like You
It's time to retire your spreadsheets. Upgrade your accounting process by adopting software built just for rental property managers.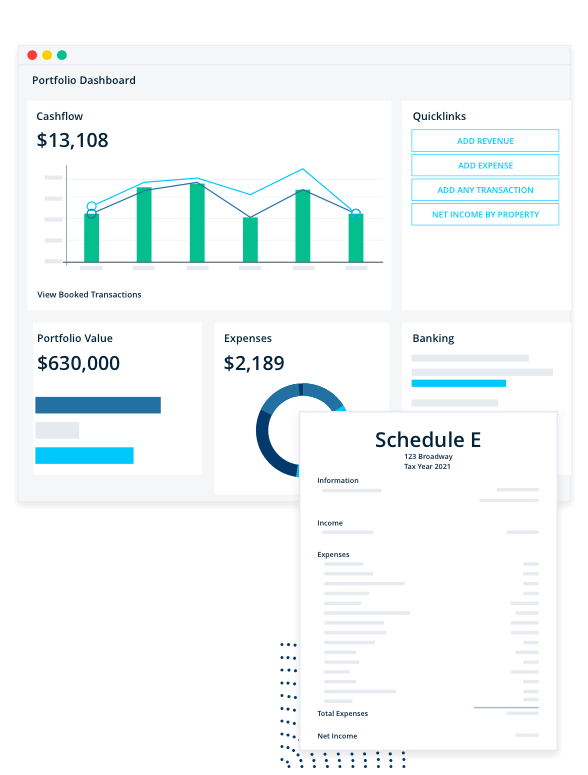 Accounting built specifically
for your
rental business
Fast, Easy, and Professional
Simplify your accounting process when you connect your accounting software, TurboTenant account, and bank information all together.
After we help you find the deductions you might have missed, you'll get a one-click tax packet with everything you (or your accountant) need to file. 
Informed Investment Decisions
P&L statements, balance sheets, cash flow — it's all in your dashboard. You can even download your tax-ready Schedule E report with a single click.
Better

than spreadsheets.


Cheaper

than QuickBooks.
Rent payments from TurboTenant automatically book as revenue on the right property.
Securely sync transactions from your bank account to record expenses quickly and accurately – with no manual entry.
 Set up rules to automatically categorize transactions – like your insurance payments or your go-to maintenance provider.
Pricing

for Accounting Software
Accounting is an add-on service for all TurboTenant users. If you change your number of properties in TurboTenant while you're subscribed to REI Hub, we automatically adjust your price.
Get 50% off your first two months.
* Maximum is $85/mo. If you have more than 15 properties, each additional property is free.
REI Hub is great! The software has been so easy to use and far better than just using a spreadsheet.
– Roxy, Long-Term Rental Investor
Frequently Asked
Questions
Join the 500,000+ independent landlords who rely on TurboTenant to create welcoming rental experiences.
No tricks or trials to worry about. So what's the harm? Try it today!